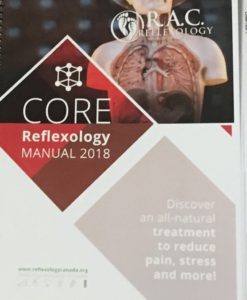 Pre-requisite
Must be 18 years of age or have completed high school.
Course Breakdown
22 classroom hours (available in person or online)
25 hours of workbook home study
Written exam (passing grade is 80%)
Access to online membership site filled with videos, worksheets, and a practice exam to help you prepare for the written test
Purpose
The purpose of the core reflexology training course is to help you prepare for the practical reflexology courses. 
There are five objectives:
1.  Understand the reflexology principles 
2.  Anatomy & physiology knowledge to gain the necessary understanding of the function of the body systems and it's holistic functions.
3. Introduction to the reflexology chart and how the reflexes are mapped
4. Learn how to stimulate reflexes for a safe, effective therapeutic treatment;
5. Gather all information required to be prepared for the practical reflexology courses. 
Course Outline
The History and Theory of Reflexology
Covers a historical and theoretical overview and background to reflexology, the healing crisis and how it affects the client and the healing process, how and why it works, zone and neural pathways of the body and terminology.
Completing a Reflexology Case Study
Covers the client/therapist interview process, review reasons for completing of a health record and documenting a session on a treatment record.
Anatomy and Physiology 
Covers an introduction and explanation of the anatomy and physiology of the systems in the body, related conditions, and how to locate the reflexes on the foot that correlate to each system.
The systems include:
The Nervous System
The Endocrine System
The Respiratory System
The Cardiovascular System
The Digestive System
The Urinary or Renal System
The Immune and Lymphatic Systems
The Reproductive Systems
The Musculoskeletal System
Key Areas of Emphasis for Specific Conditions in Reflexology
Introduces the student to an explanation and breakdown of each condition and the related systems and reflexes commonly affected within each condition.
Covers treatment guidelines including providing a healing environment and hygienic practice, what to do before and after a session, a full reflexology procedure including method, pacing and technique.
Business and Financial Information
Covers confidentiality, advertising, professionalism, business operation, and what makes a successful clinic.
Home Study and Exam Preparation
The theoretical exam must be completed within 3 months of the last day of class. 
(Extensions are available for a fee of $75 per extension.) 
Award of Certificate
Upon successfully completion of the theory the student will be awarded a fully embossed Core Reflexology certificate.