Reflexology Training Canada
These reflexology courses are recognized across Canada and provide you with the credentials you need to challenge the board exams to become a Registered Canadian Reflexology Therapist licensed with the Reflexology Association of Canada. 
For reflexology therapists, the hand, ear and emotional reflexology courses qualify for CEU credits.
The foot, hand and ear courses are also recognized by MTAS for massage therapists that also require CEU + Business credits.
Pre-requisites for all reflexology courses below
Pre-requisites: 18 years old
Master the art of foot reflexology so you have the skill to offer a professional reflexology treatment to your clients.
We begin with foot reflexology because the reflexes are bigger in the foot than they are in the hand or ear.
As a result, when starting out, it is easier to stimulate the areas properly to get your clients better results.
Graduates are certified Canadian reflexology therapists so you are qualified to apply to the Reflexology Association of Canada to challenge the board exam.
Training for foot reflexology is in person or certification is available via online training so that dates or travel arrangements are not an issue.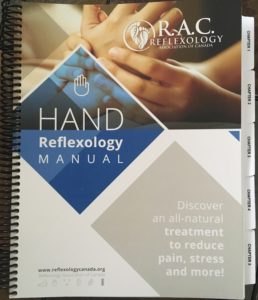 Tuition: $1050 includes GST
Watch your clients worries melt away with a blissful hand reflexology treatment. 
Understand how the body is interconnected because hand reflexology introduces meridians and acupoints to your sessions.
This course is available in person. 
Hand reflexology certification can be done online so it is easier to work into your schedule.
Tuition: $1050 includes GST
Working the ear reflexes usually helps clients alleviate stress quickly because ear reflexes are close to the surface of the skin and the brain.
Treat your busy clients to shorter sessions so they can fit them into their schedules without sacrificing results. 
Applying ear seeds to specific reflexes can help your client experience the benefits of a session for up to a week. 
Emotional Reflexology Course
Tuition: $1050 includes GST
Help your clients alleviate their emotional distress causing physical pain without needing more medication. 
This course teaches how to detect and release emotional stress so yesterday can be left in the past.
Emotional reflexology was designed to pinpoint emotions and limiting beliefs without needing to talk about the memory. 
This reflexology training is only available in person.
This course includes: 3 manuals + the core reflexology workbook.