HAND REFLEXOLOGY COURSE DETAILS
Introduction & History of Hand Reflexology – this where reflexology starts getting introduced to traditional chinese medicine. 
Zones & Referral Areas of the Hand – get familiar with how the zones are situated on the hand.
Health Record – Case studies and how to keep records of the clients hand reflexology sessions.
Structure & Function of the Hand – introduction to the anatomy of the hand
Hand & Nail Observations – What to watch for when inspecting the hand prior to working on your client.
Meridians – In hand reflexology we go beyond the zones!
Key Areas of Emphasis – Learn what reflexes to pay attention when balances appear in the body.
Session Protocol – How to prepare for the sessions and how to work the hand.
Relaxation Techniques and the Method – Learn how to do this stress melting session with your clients to help them mentally, emotionally and physically feel relaxes, blissful and spa drunk.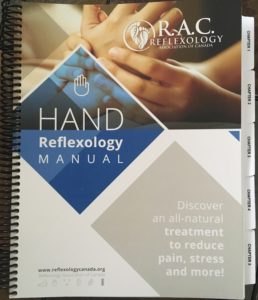 IN PERSON TRAINING 
October 15 & 16, 2022: 9 am – 5 pm
Where: Regina, SK
Fee: $999+ GST
Limit: 10 students
Classroom Training: 18 hours
Written & Practical Exams: Pass 80%
Mandatory Review: 3 hours
Practical Sessions Required: 50
***RAC APPROVED FOR 20 CEU CREDITS***
***MTAS APPROVED FOR 17.5 CEU + 2 BUSINESS CREDITS***
PRE-REQUISITE: Must be 18
This modality is wonderful for clients that do not like to have their feet touched or are wanting to reduce stress. The hand, when closed, is in the same shape as the heart. In hand reflexology, the traditional chinese meridians start to be introduced. It is a deeper dive into understanding how the body is interconnected.