HAND REFLEXOLOGY COURSE DETAILS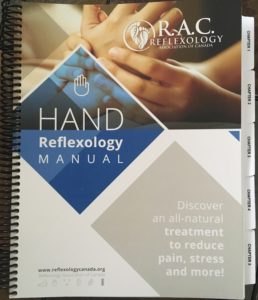 Introduction & History of Hand Reflexology - understand the origin of hand reflexology
Zones & Referral Areas of the Hand - learn the zones and what reflexes to work if one area is too tender to touch.
Health Record - understand how to complete the case studies so that you always have accurate client records to refer back to.
Structure & Function of the Hand - introduction to hand anatomy
Hand & Nail Observations - it is important to know the potential hand conditions you may encounter as a hand reflexology therapist so you know how to work the hand and what you need to avoid to protect yourself and your client.
Meridians - this is where traditional chinese medicine meets reflexology!
Key Areas of Emphasis - learn what reflexes get extra attention when there is an imbalance detected in the body.
Session Protocol - how to prepare for your client sessions so you are both comfortable and you are in the correct positioning to work with the hands.
Relaxation Techniques and The Hand Reflexology Method - learn the full hand reflexology method
IN PERSON TRAINING 
December 9 & 10, 2023: 9 am – 5 pm
Where: Regina, SK
Fee: $1250 includes GST
Limit: 10 students
 PRE-REQUISITE: Must be 18
Recommended (optional): Certified Foot Reflexology Therapist
This modality is wonderful for clients that do not like to have their feet touched or are searching for natural ways to reduce stress. 
FUN FACT:  The hand, when closed, is the same shape as the human heart. It's common for clients to relax and feel their worries melt during the sessions.
In hand reflexology, traditional chinese meridians are introduced and we deeper dive into understanding how the body is interconnected
ATTENTION RAC & MTAS MEMBERS…. BONUS!
This course has it's continuing education perks as long as you complete the course and get the certificate, RAC members will receive 20 CEU credits and MTAS members will receive 17.5 CEU + 2 business credits
Tuition for this training includes the following:
access to the private facebook group so you always have support
in person, live or distance training so you can learn the best way for you!
a physical manual, sequence sheet, workbook and hand chart will be provided
all testing fees are included with tuition so you can focus on learning
certificate upon graduation will be provided
you will get access to the online student portal for life so you will always get the latest updates for as long as the site is available
Access to the private facebook group as a student and certified hand reflexology therapist for on-going support