ONLINE REFLEXOLOGY TRAINING
FOOT REFLEXOLOGY CERTIFICATION
Advanced Training CEU credits for MTAS
Pre-requisite: 18 years old
This course has been designed for those with a busy schedule, unable to travel or feeling most comfortable learning  by distance.
With DIY Foot Reflexology Certification Training you will get access to the online student portal loaded with recorded class training, videos, worksheets and quizzes, practice exams, treatment plan training, case study videos, and much, much more.
The training content is the recorded version of the in-class LIVE foot reflexology certification so you can work at your own pace.
HAND & EAR REFLEXOLOGY CLASSES: strongly recommended pre-requisite Certified Foot Reflexology Therapist
Mandatory Pre-Requisite: Core Reflexology Certification & 18 years old
This class is now being offered online LIVE! Get access to recorded class training and practical videos to support you after class. This online training is available if you are wanting to save on travel expenses or you are wanting to get a new skill while we are all  practicing social distancing. NOTE: A mandatory review scheduled after you have completed 20 sessions is required in person to be sure your posture and sessions are being done correctly. Investment includes: LIVE video training, manual, workbook, chart, sequence sheet, shipping, exams and certification fees.
You will require internet access and the ability to download ZOOM if you choose to attend online LIVE training.
What happens if start online and then later decide that I would have preferred to take the class in-person? 
If you have already registered for the online LIVE training, that's ok. You are welcome to join the next in-class training at no additional charge if you have decided online wasn't the right choice for you.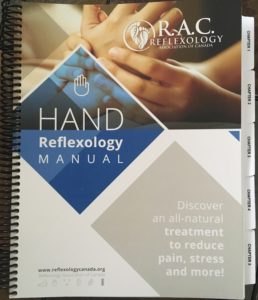 ***RAC 20 CEU CREDITS & MTAS 17.5 CEU + 2 BUSINESS CREDITS***
PRE-REQUISITE: Must be 18
This modality is wonderful for clients that do not like to have their feet touched or are wanting to reduce stress. The hand, when closed, is in the same shape as the heart. In hand reflexology, the traditional chinese meridians start to be introduced. It is a deeper dive into understanding how the body is interconnected.
Course Outline
Introduction & History of Hand Reflexology – this where reflexology starts getting introduced to traditional chinese medicine. 
Zones & Referral Areas of the Hand – get familiar with how the zones are situated on the hand.
Health Record – Case studies and how to keep records of the clients hand reflexology sessions.
Structure & Function of the Hand – introduction to the anatomy of the hand
Hand & Nail Observations – What to watch for when inspecting the hand prior to working on your client.
Meridians – In hand reflexology we go beyond the zones!
Key Areas of Emphasis – Learn what reflexes to pay attention when balances appear in the body.
Session Protocol – How to prepare for the sessions and how to work the hand.
Relaxation Techniques and the Method – Learn how to do this stress melting session with your clients to help them mentally, emotionally and physically feel relaxes, blissful and spa drunk.
RAC approved for 20 CEU credits.
MTAS approved for 15 CEU + 3 Business credits
PRE-REQUISITES: 18 years old
When the ear is worked for these sessions, the reflexes being stimulated are so close to the surface of the skin and the brain so it can can cause the body to respond faster to the treatments.
Ear reflexology is also known as auricular therapy and it is wonderful for clients that are in a hurry or for those that prefer to have shorter sessions.
Added bonus, ear reflexology therapists can apply ear seeds to specific reflexes so your client can experience the healing benefits of their treatment for up to a week!
Isn't that neat?
Ear Reflexology Course Outline
Introduction to Ear Reflexology
 discusses the origin and begins venture into traditional chinese medicine.
Anatomy & Function of the Ear helps students get familiar with the different parts of the ear and the terminology used to be able to navigate the reflexes to help your clients.
Zones and points are introduced with the ear chart so you can learn specific reflexes and the 90 international standard acupuncture points.
Standards of practice covers the expectations on how to professionally work with your client during a session.
Treatment documentation is a critical part of keeping good case studies records. We will cover how to fill out the forms for the clients sessions.
The ear inspection will help you discover what to look for in your clients ears and how to prepare the ears for a session.
How to work the reflexes and understanding the sequence teaches you how to do the ear reflexology method.
Auricular taping shows how to safely use ear seeds so that your clients can have additional pressure applied for an extended period of time.